A review of 2019, and exciting opportunities ahead: SkillStation rebrand, outsourced training & development, webinars and master classes, blogs & vlogs, and our office move
A look back at 2019
2019 was an interesting year. Like any year or any organisation, it was filled with highs and lows, although we look at the lows as challenges and even opportunities to recalibrate and respond in a positive way. The trick is to make sure there are more highs than lows!
As anticipated the continued uncertainty regarding Brexit understandably affected different markets and organisations in various ways. The common theme we experienced was a delay in decisions and investment in anything new. That said, we were able to secure some fantastic new customers who recognise and share the importance of talent management, workforce planning and a shift from a conventional approach of training to one of competency management.
Introducing our new clients
During Q4 2019 we welcomed the following clients:
Codex Integrity Limited
Supporting all areas of onshore and offshore production facility operations including upstream exploration and production, midstream transmission and storage, and downstream distribution. They also support process chemical plants and other high hazard facilities.
Oxygen-Care
Supplying and servicing a range of products in the areas of Anaesthesia, Monitoring, Clinical Information Management Systems, Ventilation, Ultrasound, Infant Care, Emergency Care Equipment including Defibrillators, Suction & Oxygen Therapy and Respiratory.
Railway Support Services
Established in 2008, Railway Support Services has grown to become one of the country's premier providers of Breakdown and Recovery services to train operating companies in the UK, providing re-railing and wheelskating on a 24/7 basis nationwide.
Sinomine Speciality Fluids
The world's leading caesium formate fluids producer, stockist and service provider. Our products have been used in over 50 fields during 20 years of successful operations for renowned oil and gas operators worldwide. Now under new ownership, we're continuing our success and are ready to provide full support for your next well.
Stobart Rail & Civils
One of the UK's leading providers of innovative and efficient rail and non-rail civil engineering projects, focussed on being a lead provider of civil engineering services to third parties and delivering unbeatable support service for our clients.

Our New Website Oct 2019
We also launched our new website that includes this new blog, along with improved content and a much better menu to navigate. We hope you like it and we're always happy to receive feedback.
External Events

Attending external events is a great way to meet great people and organisations and keep abreast of wider developments whilst raising our brand awareness. We'll be doing more of this during 2020 and have already mapped out a number of events to attend.
North East Process Industries Cluster (NEPIC) Meet the Members – was an exceptional event where we exhibited and established some great relationships resulting in new business.
North East Automotive Alliance (NEAA) Expo – another great event where we exhibited and also secured business.
EMCON 2019 – great to see this event continue to go from strength to strength. We didn't exhibit this year but used the event to network and attended to industry panel which provided helpful insights from industry leaders.
What's coming next
SkillStation Rebrand
Since welcoming our in-house graphic designer to the team early last year, we've been busy rebranding our company to present a modern, fresh look. The latest aspect of this is SkillStation, with a fresh new look and feel (there's no need to panic – the functionality will remain the same!).

Some of the changes include:
Modern iconography
The default colour scheme is now blue to align with our new brand identity
A review of page layout for easier navigation
Where possible we've reduced the number of clicks to achieve a specific task
Reduced clutter and increased white space for easy page navigation and all-round faster use
The ability to change the brand colour scheme to align with your own (phase 2 - coming next)
Here's a few screen shots to give you a feel of the new look and feel. We hope you like it.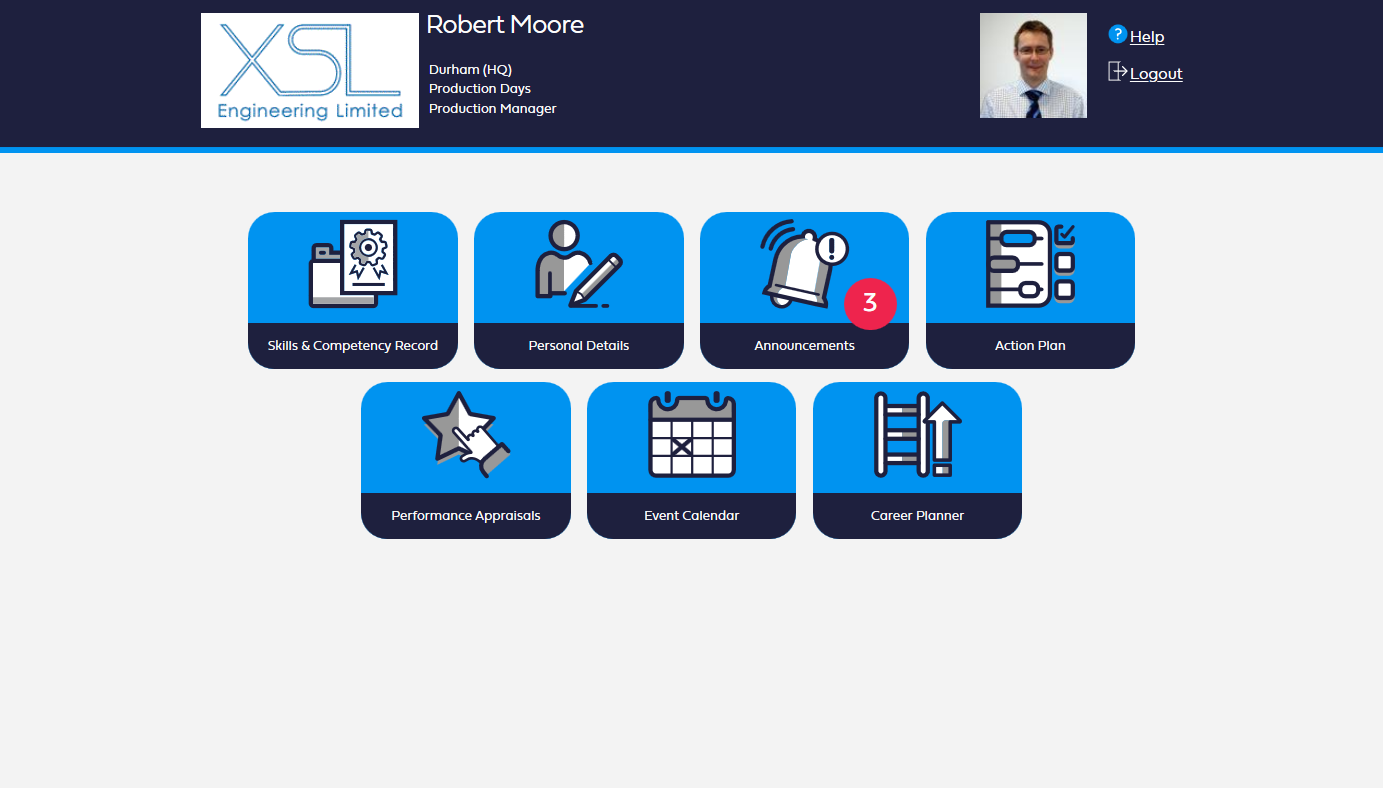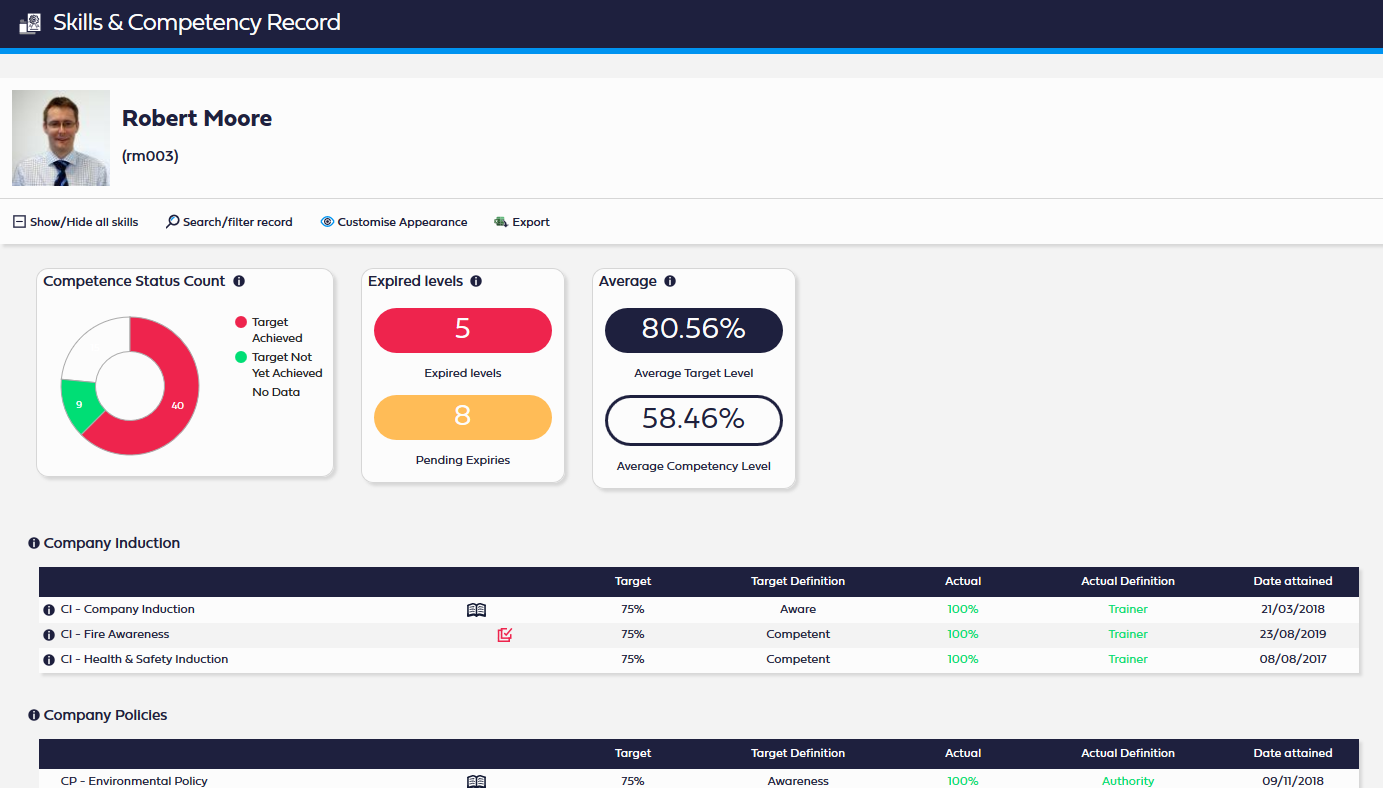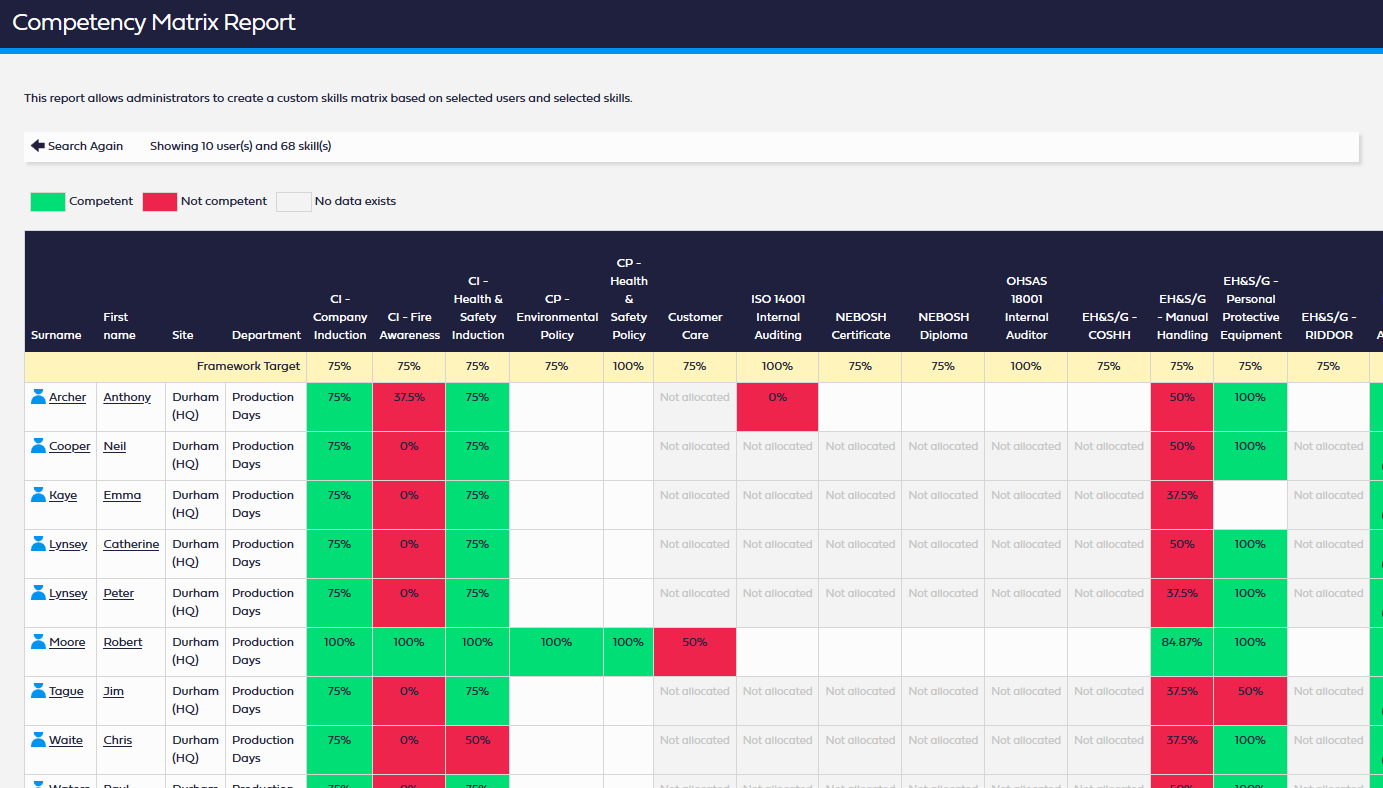 New Service – Outsourced Training & Development
We've introduced a new service reflecting on the market, our existing clients and where we can add value and benefit. Some organisations don't have an in-house Training/Learning & Development function, so we can fill this gap in an agile and cost-effective way.
Examples of service provision include:
Audit and report of your full learning and development processes and systems
Production of learning and development policies, procedures and processes to address any shortfalls identified during the audit
Access to strategic and tactical outsourced learning and development expertise and support
Identification of the optimum solutions to fill knowledge and skills gaps
Sourcing of high impact training providers through our partner network
Support to identify potential funding opportunities based on the organisation and individual eligibility criteria
Ensuring all of your learning and development activity delivers value and impact
See more about our new Outsourced Training & Development.
Webinars and Master Classes
During 2020 we'll be scheduling a series of masterclasses and webinars for existing customers, prospects and people with a strong interest and passion in engaging and optimising the performance of your people.
Blogs & Vlogs
We'll be creating regular blogs and vlogs on our website and sharing these through our social media channels, in particular LinkedIn and Twitter. We'll also be inviting guest bloggers/vloggers, so if you have something to say/share we'd be happy to support this.
Follow us on Twitter & LinkedIn
SkillStation Benefits
If you're new to SkillStation, here's a quick overview of the benefits and value our innovative online solution can deliver to any organisation regardless of size, sector or location:
Training, skills and competency data at your fingertips from any connected device
Streamline and optimise your learning & development processes
Quickly identify and address gaps in capability by individual, function, department, site, division or enterprise
Identify optimum solutions to close training and skills gaps
Email notification of re-training and re-certification dates 90, 60 and 30-days in advance
Detailed and user-friendly reporting
Helping you take control and optimise your most important resource… your PEOPLE.
Office Move – space to grow
To support our exciting growth plans, we're looking at new office space, still based in the North East. We will be looking to remain relatively central and we'll keep you updated once we find our new home.