Skills Passports
Instant access to competency data on mobile devices.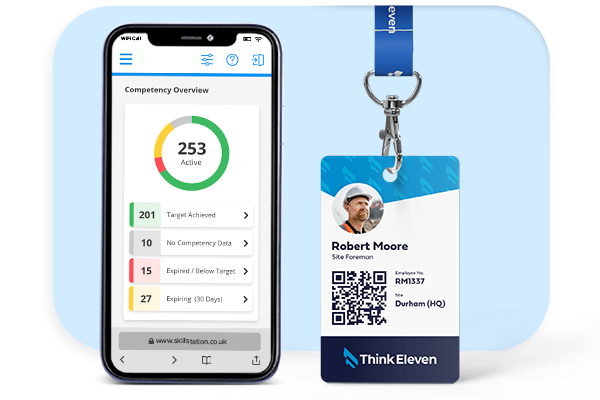 Skills & safety passport data on demand
This provides remote verification of proficiency by allowing access to personal training, assessment & competency records. Simply scan a QR code on a person's identity card to securely see their data. These cards can form the basis of any organisation's Skills or Safety Passport.
You decide what fields to put on your cards (e.g. name, department or photo). Cards can be branded with your organisational logo or left intentionally plain for increased security. Your ID cards can even contain electronic chips for access to your building etc. You can design your own card, or we can do this for you.
The data for your cards can be displayed on-screen for exporting/printing or can be exported into Microsoft Excel and passed directly to our card printing partner to produce. If you decide that our partner will professionally produce your cards, you will liase with them directly to produce these.
Scan the card with any mobile device that has a QR code scanner app (there are plenty of free apps available) to see that person's record and all supporting data. Note that this requires an internet-connected device, and a SkillStation administrator login with the correct privileges to view this data.