Never miss an important date again.
SkillStation will ensure that your retraining and re-assessment dates are never missed. SkillStation allows you to configure validity/expiry periods for any required skill (e.g. 3 months, or 1 year). Once the person reaches their required level of competency or proficiency, SkillStation will calculate the retraining/re-assessment date automatically and then proactively monitor this.
Important dates will be clearly displayed on peoples' training & competency records. In addition, email reminders will automatically be sent to all respective administrators in advance, to allow time to schedule the appropriate actions.
Although expiry dates are managed automatically by SkillStation, additional tools are also provided to overwrite and recalculate these. These can be done for individuals, or across large selections of people/skills.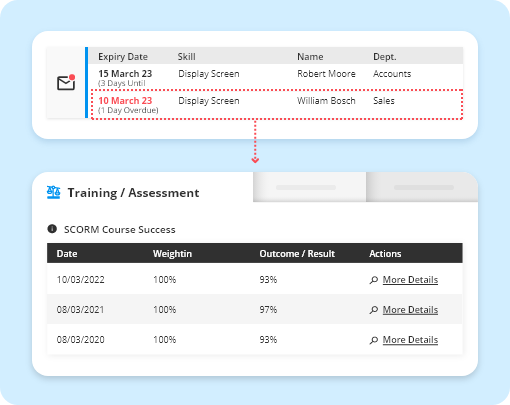 Detailed and accurate training histories
As new training and assessments are undertaken, SkillStation builds an accurate historical log of these events. This can easily be accessed from within a person's skills and competency record, along with an unlimited amount of supporting evidence or certification documentation.
This data will streamline your audit processes, and ensure that staff are working competently and safely.