Powerful and intuitive training, skills & competency matrices
SkillStation is the perfect software solution for instantly creating skills matrices based upon your talent and competency framework. SkillStation removes the frustration and limitations you've experienced from fragmented spreadsheets.
Skill matrices can be created in several powerful and flexible ways. To perform competency gap analysis, to understand future growth with a succession planning matrix, or to evaluate team competency at a granular level. All skills matrices are automatically colour-coded to help visually identify competency, compliance, and gaps. This culminates to make SkillStation the perfect skills management system.
SkillStation also allows the hosting of important supporting information that is easily accessible from within the matrix:
Target levels
Expiry/retraining dates
Training and assessment histories
Certification documents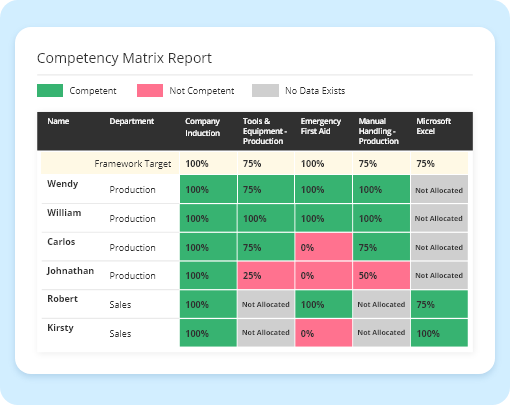 Key features
Create skills & training matrices of any size
Choose any combination of people, skills, job roles or functions
Customisable or generic skill targets for individuals/job roles
Instant access to historical training & assessment data, certification and evidence
Easy and insightful skills matrices
People/skills matrix

Select any combination of people and skills to display in your bespoke matrix. Immediately display proficiencies against your organisational targets and see where gaps exist. Where non-competence or non-compliance is found, evidence of this training and assessment can also be seen.

Training matrix

Quickly conduct a training needs analysis to identify those who have been successfully trained and assessed against your selected range of skills. Enter new data easily to close gaps or to demonstrate continued proficiency, and quickly upload any supporting evidence or documentation.

Job role skills/people matrix

Identify your top talent to fill roles by selecting a job role, then compare proficiency against the selected role. SkillStation can create a competency matrix against the whole organisation, or against any subset of people (e.g. role or department-level).

Succession planning matrix

Quickly select a specific person (or specific skills within their capability), and then identify their successor in seconds. This search can produce the top 10 potential successors, or a much broader result defined by your search criteria.