Upload documents or link to your own infrastructure
Following training and assessment, certification or evidence of competence can be conveniently uploaded into SkillStation.
SkillStation supports an unlimited amount of documentation against each person:
Skills
Training
Knowledge
Compliance
Assessments
Over time this will develop into a detailed library and evidence porfolio for each member of staff. Documentation can be uploaded regardless of whether the person met their target levels, and therefore can demonstrate both proficiencies or skill gaps.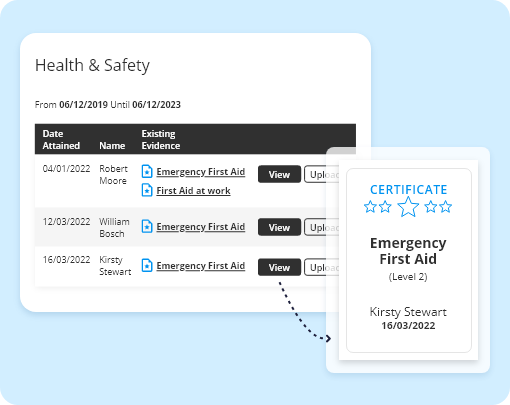 Types of certification & evidence
Documents can include, but are not limited to:
Training course attendance/completion
Compliance signatures
Certification (e.g. First Aid)
Mechanical operation (e.g. Fork Lift Truck Licence)
Viewing and uploading of documentation is based upon administration remits to ensure privacy and security.
Securely stored and conveniently accessible documentation.
Documents can be uploaded and hosted on SkillStation. Alternatively, you can link to existing documents on your company IT infrastructure to avoid unneccessary administrator burden. Most document management systems (e.g. SharePoint) can create shareable links that can be pasted into SkillStation to create convenient links to your infrastructure. This also provides the additional security offered by these platforms.