Deploy a suite of robust assessment tools.
Assess your people both online or on-the-job to measure both competence and knowledge awareness using a range of assessment methods.
Skills can be configured to support a range of different assessment types that can be weighted to signify their value in relation to that skill e.g.
Training course (25% weighting)
Multiple choice assessments(25% weighting)
Manager assessment (50% weighting)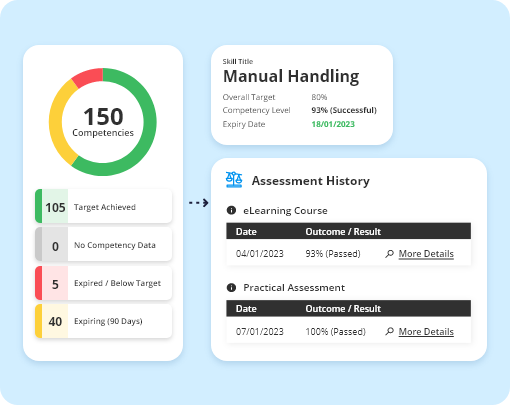 Key assessment types
The following assessments come as standard (including the option of self-service to reduce an unnecessary admin burden):
Examples of assessment options include:
Multiple-Choice Quiz

The questions and answers can be randomised to reduce the possibility of cheating. Images can be added to bring them to life and provide clarity.

Point & Click

Uses images for the assessment. This could be a photo of a product or a schematic of your building. Employees simply click on the relevant area of the image based on the questions asked.

Self-Assessment

Allows employees to assess/rate their own proficiency for skills, competencies or values. This is then moderated by line-managers or appropriate people.
Wider assessment types
The possibilities are endless, and vary based on your industry/organisational requirements. Bespoke organisational assessments can also be created to suit your industry, sector and regulatory requirements. Some typical assessment examples include:
Short Answer Questions
People submit their answers online, which are then marked by an appropriate person.
Projects
Can be hugely powerful when used to demonstrate applied learning and skills.
Line-Manager Assessment
Record and comment on outcomes of practical or on-the-job assessments.
On-the-Job Training
Capture this widely used and effective way of training.
Practical Assessment
Capture evidence of practical ability e.g. a task.
Coaching
Assess and provide feedback on a range of skills e.g. management and/or leadership competencies.
You decide how much information to capture
As each new assessment is undertaken, SkillStation will record this activity in each person's history. SkillStation can optionally store a variety of valuable information, such as:
Date & outcome (their score or result)
The required level of proficiency (e.g. targets)
Location and training provider details (internal or external)
Duration and cost (multiple currencies supported)
Detailed and accessible information
Each person's assessment history is easily viewed within their training record, or through the powerful reporting tools:
Ensure people are well trained, and have demonstrated the required level of proficiency
View skills to identify evidence of competence/non-competence, or training needs
Identify where training/re-assessment is due, or is now overdue
Establish costs and time invested on training and assessment activities