The complete competency management system
SkillStation is an online competency management software solution that provides an optimised approach to manage your training, skills and competency records. Overcome the challenges of spreadsheets and paper-based records, and take your organisation to the next level.
Effortlessly monitor and keep pace with competence and training needs
Powerful functionality to relieve admin burden
Easily report and analyse your workforce capability
Instant access to historical training & assessment data, certification and evidence
Competency
Records
Skills
Matrix
Training
Records
Certification &
Evidence
Expiry &
Retraining
Assessment
Records
Notifications
Reporting &
Dashboards
Competency Records
SkillStation provides detailed and easily accessible records to track the journey toward proficiency (competence). This can include any combination of training, assessment and associated evidence.
Learn More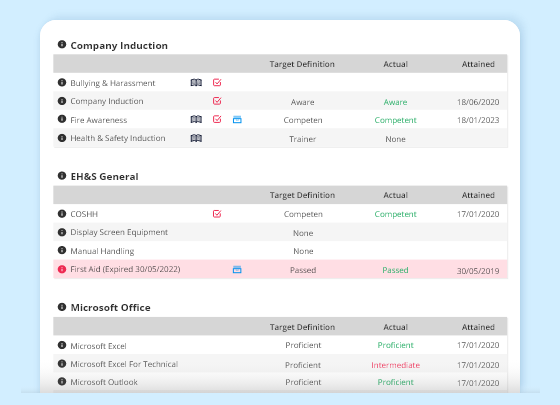 Skills Matrix
SkillStation allows you to report against an unlimited amount of training & competency data, using any combination of people and skills. Job roles and tasks can also be included to provide rich succession planning or internal recruitment functionality.
Learn More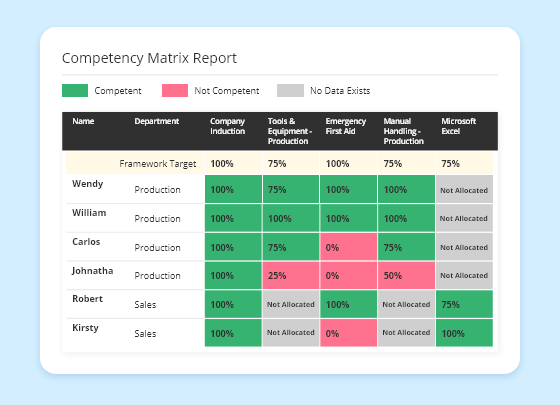 Training Records
SkillStation enables your organisation to maintain a rich history of all training & development activities. This can cover any type of training and/or assessment (online or offline). Optional expiry warnings (for retraining & reassessment) are also handled automatically, along with the ability to store your supporting certification.
Learn More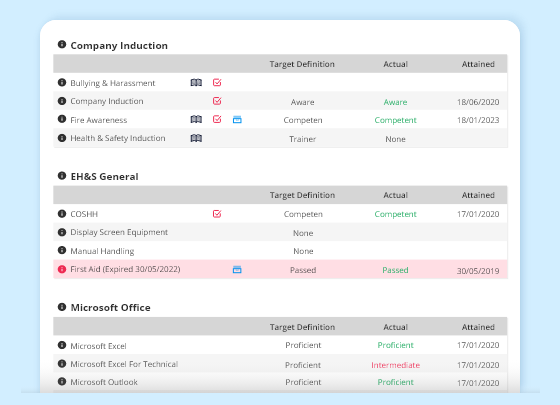 Certification & Evidence
SkillStation enables you to quickly link documents such as certificates and assessment records to support your training & assessment activities, and to provide evidence of proficiency. Upload documents to SkillStation, or create hyperlinks to your internal network or Document Management System.
Learn More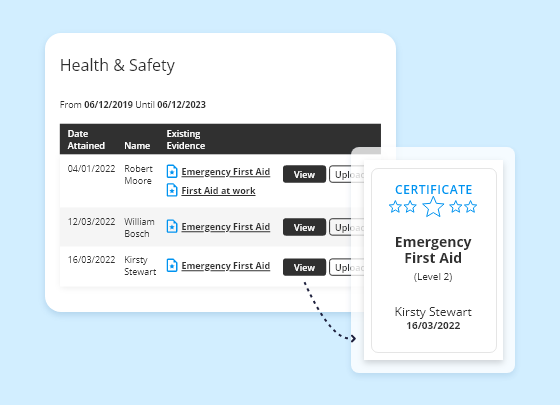 Expiry & Retraining
SkillStation will automatically email managers and team leaders to notify them of all pending retraining and reassessments due within their remit. Leaders receive a targeted notification to allow time to coordinate the appropriate activities to ensure competence and proficiency is ongoing.
Learn More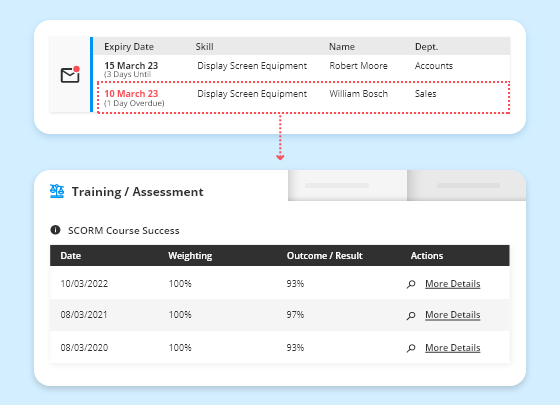 Assessment Records
SkillStation enables your organisation to maintain a rich history of all upskilling & assessment activities. This can cover any type of assessment; both online or offline. Optionally combine multiple training and assessment requirements on a per-skill basis to maximise the level of knowledge, understanding and overall competence.
Learn More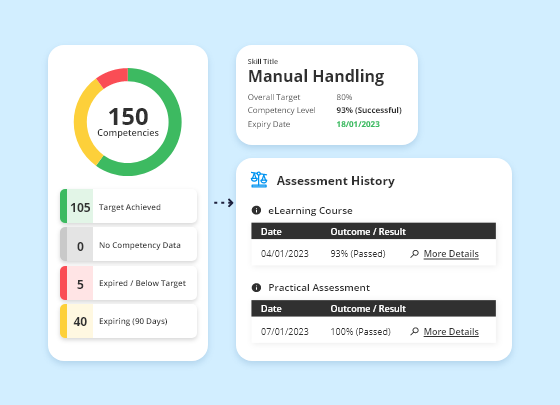 Notifications
SkillStation allows important communications to be shared easily across any area of your organisation. Optionally include compliance requirements against key communications, so your people can demonstrate their understanding and conformance.
Learn More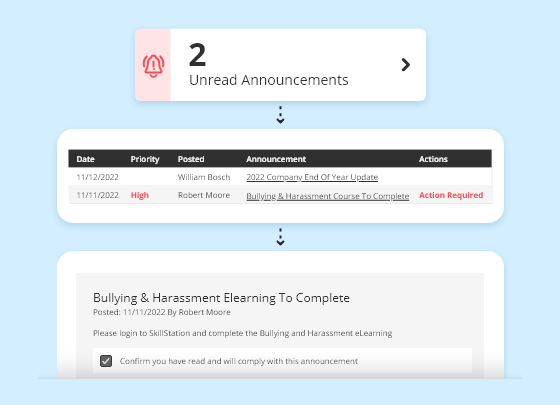 Reporting & Dashboards
SkillStation provides powerful and intuitive access to every aspect of your training, assessment and competency data. Display your results using different graphical outputs, or export the data as spreadsheets for deeper analysis.
Learn More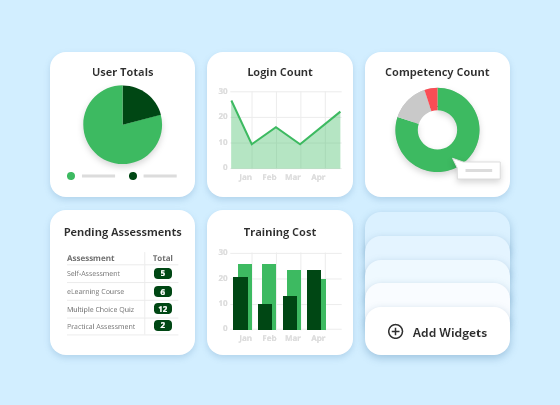 A single source of truth for workforce skills and competence.
SkillStation provides you with the information and tools to fully understand and take action on the needs and capability of your workforce. Optimising training and development with SkillStation ensures you're always one step ahead.
Report
Visibility of your entire training & development activity.
Develop
Amazing employee performance, engagement and results.
Demonstrate
A trained, competent and compliant workforce.
Plan
Schedule and coordinate your training & development.
Optimise
Streamline processes and provide a coherent all-in-one solution.
Standardise
Freedom from fragmented spreadsheets and paper records.
Modular functionality providing unbeatable performance and value.
Add-on modules are also available on-demand for organisations who want to take competency management to the next level.
Unparalleled expertise and support
Built upon a wealth of industry expertise and experience
Supported by a friendly and responsive team
Dedicated experienced account manager to support your journey
A continuously evolving online solution focused on user feedback